We are Partners of
Industry leaders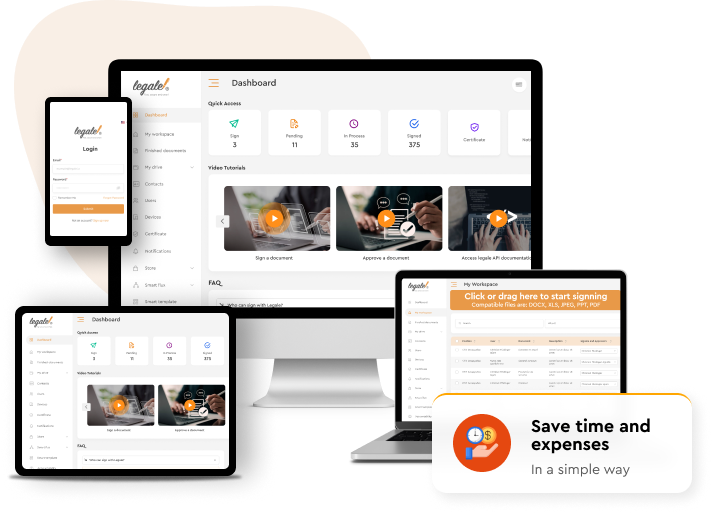 Enhance your experience with the best in
easy-to-use tech
In the modern digital age, managing documents effectively and securing authentic e-signatures promptly have become pivotal for businesses aiming to maintain their competitive edge while ensuring compliance and security. Understanding this, we've developed a platform where innovation and simplicity converge to meet your document management and e-signing needs with absolute finesse.
Crafted with
easy implementation

in mind
Our advanced document management and e-signing platform is meticulously crafted, keeping in mind the varied needs and technological capacities of diverse businesses. This means that whether you're a start-up or a well-established enterprise, our system effortlessly aligns with your operations from the get-go. We've streamlined our installation process, ensuring that your transition from a manual, paper-driven operation to a digitized, automated workflow is smooth, efficient, and incredibly straightforward.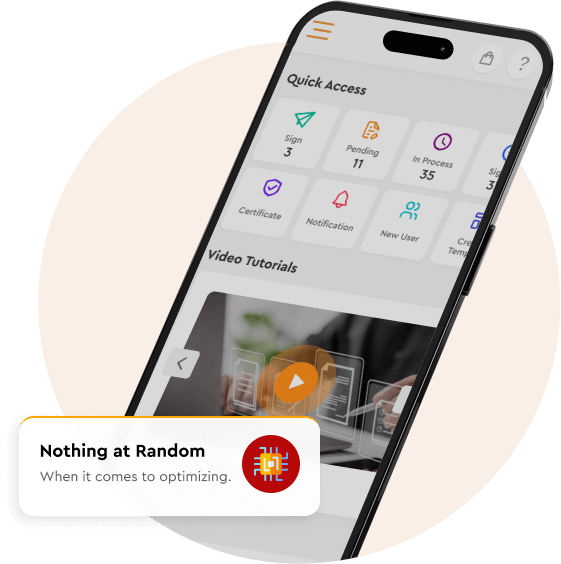 Where your documents are

boundless
Immerse yourself in a world where your documents are boundless with our state-of-the-art templates, ensuring seamless version control and effortless collaboration.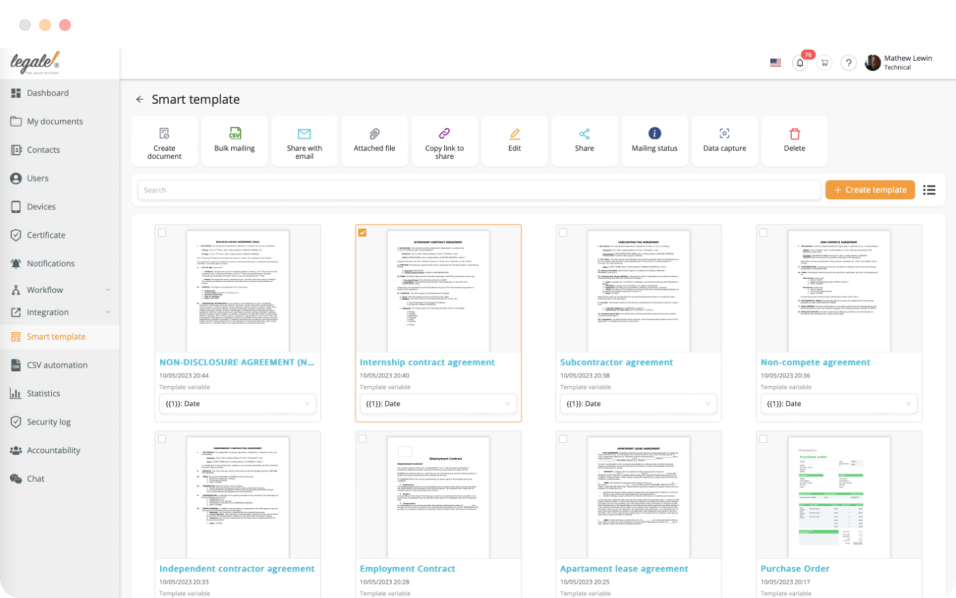 Ensure document authenticity
Scan our QR code to confirm the legitimacy of our documents.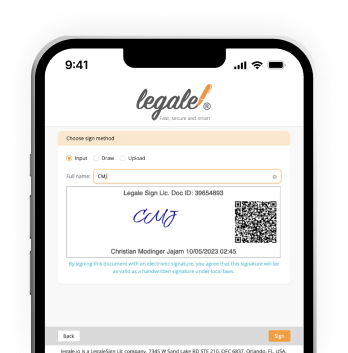 Template revision control
Bright edits: new versions spotlight changes with color and add word-like comment areas.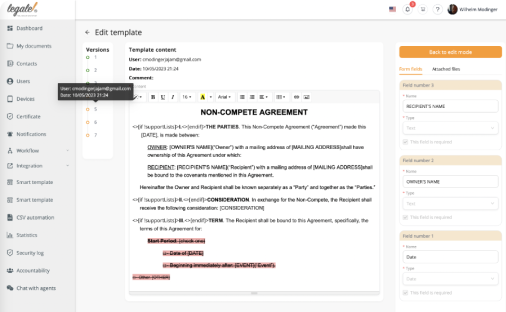 Thousands Trust Us,
Join Our

Thriving Community!

CSV automation: your shortcut to seamless e-signing.
Say goodbye to manual hassle and hello to streamlined operations by employing our CSV automation, seamlessly dispatching numerous documents for e-signing with precision and ease.
Elevate your e-Signing with remarkable efficiency and scale:
Effortlessly process and send up to 10,000 documents daily, meeting all your bulk e-signing needs with unmatched reliability
Meticulous control and tracking
Employ precise management and in-depth tracking for every document, ensuring each one is signed, returned, and recorded punctually and accurately.
Unrivaled accuracy and security
Guarantee exact dispatching and robust security for all documents, maintaining impeccable data integrity and safety even in high-volume scenarios.
Maximized operational efficiency
Save substantial man-hours and maintain constant, reliable operations with 99.9% uptime, ensuring your e-signing process is always on, and always efficient.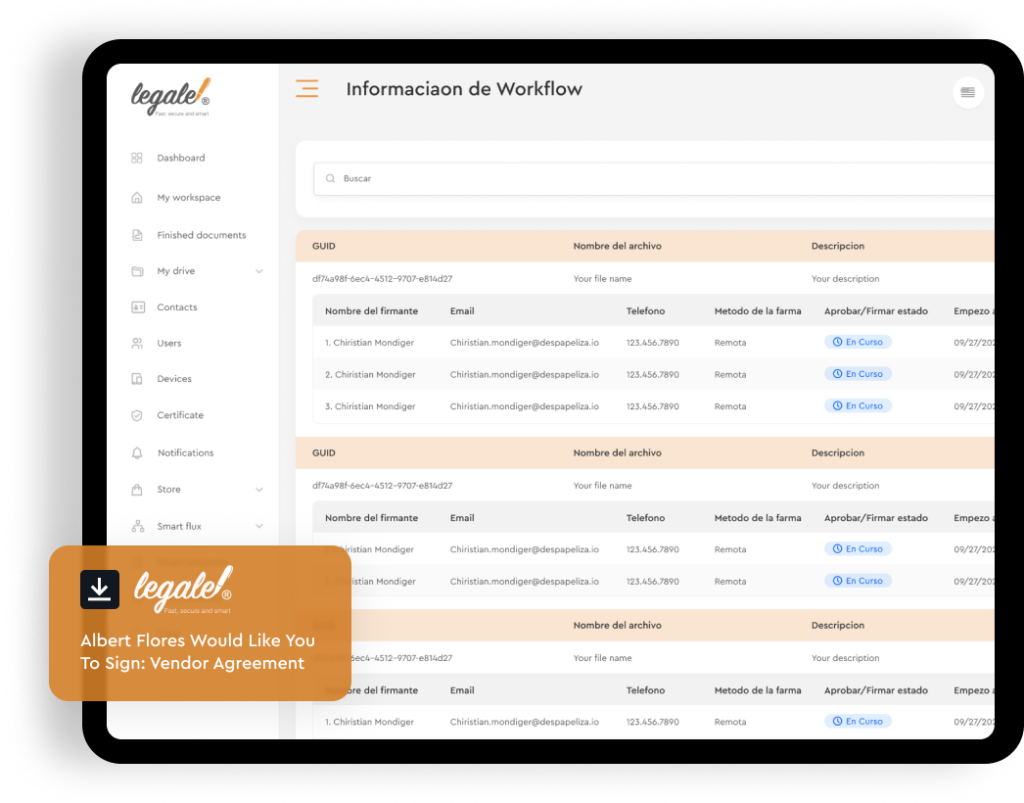 Compare Legale
plans & pricing
Individual Plan features:
Professional plan features:
Need a Tailor Made Plan Instead?
If you need an alternative to our plans, contact us by filling out this form.
Legale plans & pricing FAQs
Hear directly from our
valued customers!
Himura Adreas

CEO at Manika

After evaluating different alternatives, we decided to integrate Despapeliza's document management platform due to a need to move forward as a company towards digitalization. Thanks to the autonomy in configuration, we have covered different areas of the company, automating internal and external workflows, managing to eliminate paper and save resources. Our users have become accustomed to the ease of the platform, demanding digitalization in more company processes.

Read more

Lucy Rodriguez

Administration Leader

Thanks to the ease of use of the solution, we achieved rapid adoption of the tool and reduced signing times from 7 days to just hours in processes of board minutes, committees and commercial agreements. We save 100% of the expenses associated with the transportation of documents and the collection of signatures in different communities, and even outside Santiago.

Read more
Legale.io

Makes Headlines!